What Is Kinesiology?
Kinesiology can refer to a very specific Science of Posture, Movement & Action. OR, it can be an entire health or medical profession unto itself with a very wide range of elements. …
In brief, it is the Science of Movement. …
A more specific and complete idea is kinesiology is the study of how and where bones move when various muscles pull on them. …
Here is the Biceps Brachii pulling the forearm toward the (upper) arm …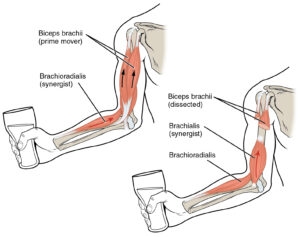 There is the simple one muscle, one bone interaction. Then there are the more complex actions of multiple interactions between more than one muscle and bone. …
Here is an excellent article from Whitney Lowe giving a basic description of Kinesiology as applied to massage and soft tissue therapy.
Kinesiology at the School of Advanced Bodywork
At the SAB, you'll study Kinesiology so you can more precisely evaluate which specific muscles are most responsible for a Client or Patient's pain or dysfunction. This provides a more efficient and effective approach to tracking down soft tissue issues many, if not most, therapists have trouble resolving. …
The beauty, and one of the Great Advantages, of the Schools of Advanced Bodywork, is you do NOT have to go to a year or more of expensive, college-level courses to practice a valuable form of a Health or Medical trade. You can, in 6 months, for far less cost, learn a high-level skill that includes kinesiology, and you can begin helping people right after you graduate!
LEARN MORE About Kinesiology HERE (on this website).
The above-linked article is by
David Scott Lynn,
founder of DSL Edgework.
His therapy work is part of the SAB's Core Curriculum
(SABs: Schools of Advanced Bodywork.)
So Please go to our School Home Page and learn more about the SABs and how your life will change by getting a solid education with us. Or if you want to know more about the Nuts & Bolts, go to the 500 Hour Curriculum page. …
And if you already have seen enough, head over to the School Catalog Request page, get a catalog, and give us a CALL at …
Thank You Very Much for Reading about our Kinesiology Education included at the School of Advanced Bodywork in Jacksonville, Florida!